Clinical waste can have different meanings for different people. Most commonly, "clinical waste" is the term used to describe waste from medical, nursing, dental, veterinary, pharmaceutical or similar practices that may pose health hazards or pose a risk of infection. There are strict regulations in the U.K. regarding the management and disposal of clinical waste so it is important to establish an ethical clinical waste management policy. The following steps should be taken to effectively manage clinical waste:
Separate Non-Clinical & Clinical Waste
You must accurately separate clinical and non-clinical waste and be meticulous in doing so. Typical examples of clinical waste include human or animal tissue, blood or other body fluids, excretions, drugs, pharmaceutical products, used swabs or dressings and used syringes or needles. Examples of non-clinical waste include medical equipment, medical files and domestic waste.
Keep Records of All Clinical Waste
Due to the strict regulations regarding clinical waste management and disposal in the U.K. and the severe penalties posed by any mishandling, it is necessary to track your clinical waste and keep records of both when you receive and dispose of it. Enforce a policy whereby staff must keep a waste acceptance record sheet. You should also require that the destruction of any chemical waste is logged, detailed and signed off by each operator.
Label & Classify Clinical Waste Accordingly
Different types of clinical waste require different types of clinical waste storage. Not only should all containers and items be adequately and securely labelled with the name of the producer and source of the clinical waste but they need to be further segregated for different streams of waste disposal.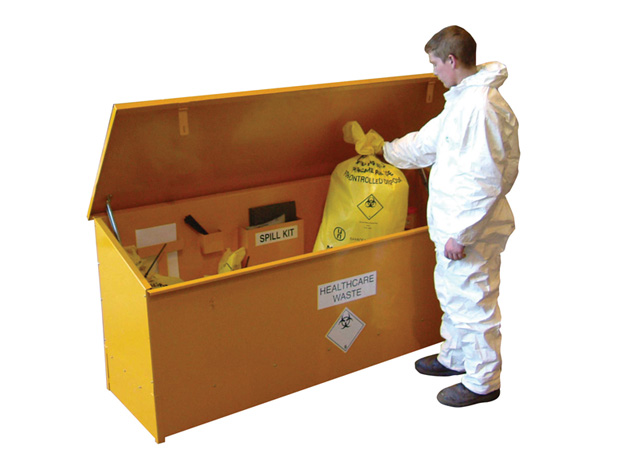 Typically, clinical waste should be stored as follows:
Yellow Healthcare Risk Waste Bags – Blood stained/contaminated items e.g. bandages, catheters, blood tubing, human waste from potentially infected persons.
Rigid Yellow Containers – Solidified body fluids, blood, blood administration materials, lab waste (waste which is free from chemical residue).
Rigid Yellow Container with Purple Lid – Controlled substances, out-of-date medicine, small amounts of leftover/partially used medicines, damaged pharmaceutical medicines.
Yellow "Sharps" Container with Red Lid – Needles, syringes, scalpels, contaminated slides, stitch cutters, stitch wires, razors, blood contaminated glass.
Yellow "Sharps" Container with Purple Lid – Any of the above sharp objects which have been used to administer or are contaminated with cell-killing toxic waste.
Rigid Yellow Container with Black Lid – anatomical body parts, human waste from known or even suspected CJD cases, large metal surgical objects e.g. hips, placenta sealed in leak proof containers.
Reuse/Recycle Waste Where Possible
Where possible, decide if any items among the consignment of clinical waste could be recycled. Is there any potentially uncontaminated glass, cardboard or card among the wastage that could be reused or recycled? It is important to try to reduce the amount of clinical waste as much as possible.
Only Use Authorised Clinical Waste Carriers
Only use an authorised carrier who holds a waste management licence or exemption to transport your clinical waste. Check with relevant authorities that both the carrier and their specified waste facility are authorised for clinical waste disposal. Ask to see proof of authorisation and keep a copy of any documentation for your own records.
For more information on chemical storage management and chemical safety, be sure to check out our full collection of  blog posts.