If you store chemicals in your workplace, a chemical spill is a real, potential threat to your employees and your business. Chemical spills can occur for many reasons – human error, carelessness, chemical combustion, gradual damage to a container, equipment breaking down or even bouts of bad weather.
Chemical spills pose a threat to the health of your employees and the wider community, the environment and the property itself. The key to success is a speedy, efficient reaction to such an incident. Note the following 5 points when assessing chemical spill control processes in your workplace.
Use Spill Trays & Spill Pallets
Even the smallest amounts of chemicals can cause damage if they spill or leak. Spill trays and spill pallets can be used to provide a safety net for any chemical leaks or spills when storing or pouring chemical containers.
A spill tray provides secondary containment for smaller chemical containers. They can be used on countertops and are commonly found in laboratories and research facilities. Spill trays allows for the safe moving and decanting of chemicals around a laboratory, and if a spill occurs it is contained in the tray – which can then be removed and cleaned.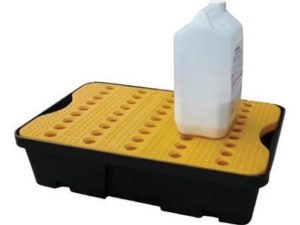 A spill pallet is a much larger secondary containment structure, designed to support heavier loads (e.g. drums). Spill pallets are generally available in a range of sizes, depending on how many drums you need to store. Spill pallets are designed to be easily transportable by a forklift or pallet truck.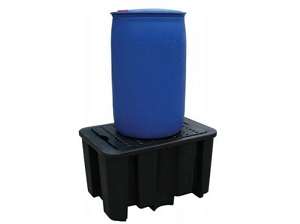 Learn more about safely transporting chemicals.
Draft a Chemical Spill Emergency Response Plan
Under COMAH regulations, your safety assessment report should include an emergency response plan to deal with chemical spills in the workplace.
Your chemical spill emergency response plan should address:
Procedures to contain and control chemical incidents so as to reduce the potential effects and in turn limit the danger posed to all persons in the workplace, the environment and the building structure.
The actions which need to be taken to control the conditions should such incidents occur and to limit their consequences, including a description of the safety equipment available/required for each action.
The assigned duties that respective staff members are expected to perform should such an incident occur.
Details regarding notifying the relevant authorities and emergency services in the event of a chemical spill e.g. the fire service, the NCEC (National Chemical Emergency Centre), ChemSafe.
Read this blog to learn more about the effects of chemical spills, and how to develop a chemical spill emergency response plan.
Store IBCs, drums & other containers in Bunded Chemical Stores
When storing large volumes of chemicals in IBC's, drums or other containers, it is important to ensure that they are stored in a bunded chemical storage unit. A bunded chemical storage solution will prevent spills and leaks from quickly spreading and potentially damaging other containers in the unit, or even prevent the collision of incompatible chemicals.
Keep a Supply of Reusable Drain Seals
An important task to remember is to try to prevent chemical spills or leaks from entering storm water drains as this can lead to a major problem on your business premises. Drain seals are designed to greatly reduce the quantity of chemicals entering storm water drains. Reusable drain deals can be cleaned and used time and time again. Keep a supply of drain seals stored near each drain on the premises so that they can be quickly deployed during an emergency response to a chemical spill.
Install On-Site Containment Barriers
To quickly and efficiently contain a chemical spill to one specific area of the property and to prevent the spill/leak from spreading while you evacuate the building, it is wise to install a containment barrier on the premises. You can choose from manual or automatic containment barriers – automatic containment barriers can be instantly activated by fire or leak detection systems to capture and retain chemical spillages and contaminated firewater.
For more information on chemical safety and chemical storage, visit our blog. Got a query about chemical storage or chemical safety solutions? Feel free to get in touch.