Approved, built-for-purpose flammable storage containers can help minimise the hazards associated with flammables, as can safety protocols and proper employee training.
The storage, distribution and use of flammable liquids and chemicals in the workplace carries significant risks, which is why every flammable substance comes with precise documentation of associated hazards and detailed guidelines for safety. Approved, built-for-purpose flammable storage containers can help minimise risks, as can established safety protocols, proper employee training and a variety of other measures.
However, perhaps one of the most important steps to ensuring safe flammable liquid storage and handling is also one of the easiest to overlook: actually understanding why proper storage of flammable liquids is so important and the potential hazards of incorrect handling.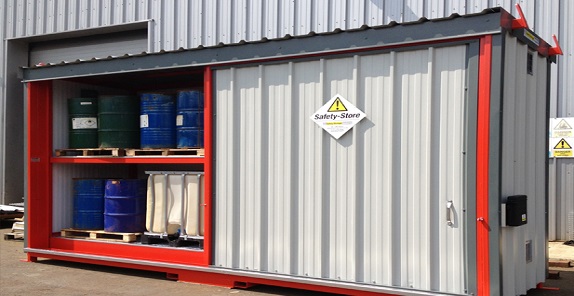 Meet U.K. regulatory EHS compliance
The most obvious reason for properly storing flammable liquids is to reduce the likelihood of fire. Highly flammable chemicals should be stored, transported and used in a safe manner which reduces the risk of fire and reduces the likelihood of them adding fuel to any fire on site.
Any organisation that stores, dispenses or uses chemicals and flammable liquids has a duty to take all possible measures to minimise risk to people, property and the environment. The Health and Safety Executive (HSE) has issued specific guidelines and classifications for flammable liquids through the Dangerous Substances and Explosive Atmospheres Regulation of 2002 (DSEAR).
Improve operational efficiency
Beyond compliance with safety regulations, correct storage of flammable liquids can help maximise an organisation's operational efficiency. Following correct storage and handling guidelines will help manage the volume of flammable liquids stored and used by a facility, which can help minimise excess ordering. By reducing the potential for leaks, spills and other accidents, facilities are effectively minimising downtime and the potential delays an incident could cause. Depending on the site's operations, safe handling and storage of flammable liquids could directly impact a company's overall performance.
Protect the health and wellbeing of employees on site
Between April 2014 and March 2015, the HSE documented approximately 850 fire incidents caused by the ignition of flammable liquids and chemicals, resulting in more than 280 injuries and 13 fatalities. Fire is just one of the many potential hazards of flammable liquids. If improperly stored, flammable liquids can release toxic gas into the air, which can cause illness or death in people who inhale it or even react with the air to ignite and cause a deadly explosion.
Fire and explosions can cause severe injury, illness and death in workers, as well as significant damage to property and potentially catastrophic damage to the surrounding environment. The cumulative effects can well outweigh the initial damage, as operations stall because of unusable facilities and the wider local community copes with the loss of jobs, industry and even lives. Following the issued guidelines on chemical safety and using correct flammable chemical storage could save much more than some spilled liquid and the time it takes to clean it up, it could potentially save lives.
How can U.K. workplaces protect against the hazards of flammable substances?
1. To begin, operations managers and safety officials should conduct a risk assessment according to DSEAR regulations.
2. The safety data sheet (SDS) for all chemicals and hazardous materials should be available to be read by workers using, dispensing, transporting and storing flammable liquids.
3. Emergency protocols and procedures should be defined, published and practiced, and all employees with potential exposure to any hazardous material should be apprised of the risks and responsibilities of their positions.
4. For each flammable liquid type, use a certified, purpose built flammable storage cabinet according to the specific flammable storage requirements of your workplace.
Companies must recognise that flammable liquids and chemicals, and all hazardous substances, pose potentially serious risks to people, operations, the environment and the neighbouring community, and that basic steps must be taken to minimise those risks.
If you have questions about flammable liquids storage at your facility or are interested in flammable chemical storage solutions, contact the expert chemical storage team at Safety Storage Systems U.K. We can help assess your needs and recommend a flammable storage solution that's the best fits for the requirements of your business or workplace.