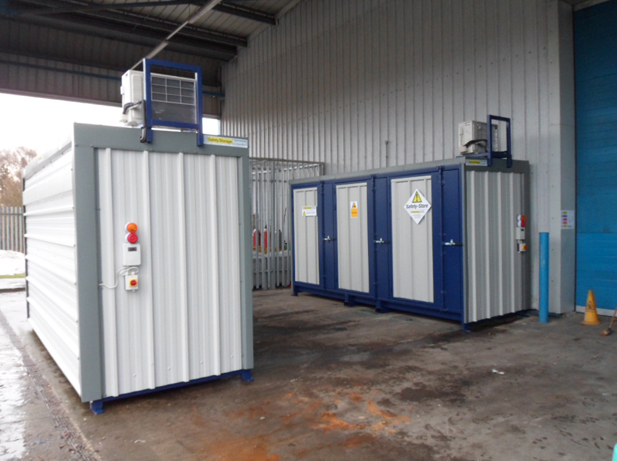 Temperature controlled storage is vital for securing temperature sensitive chemicals, or protecting stores located in extreme climates. However, these stores are often mistakenly viewed as simply having insulation and air conditioning. To tackle this misconception, we've decided to discuss the five key features of the heat regulating storage units provided by Safety Storage Systems.
Thermostat controls
Each temperature controlled storage unit comes with thermostat controls, allowing the temperature to be easily regulated. These have pre-set upper and lower temperature limits with alarms. The temperature controlled stores are delivered to site with the temperature and alarm limits pre set. It is recommended that only qualified personnel be allowed to change these settings, to prevent any accidental chemical reactions to the temperature changes.
Recording and monitoring of temperatures
Additionally, temperature controlled storage units allow you to monitor and record the temperature within, which has a range of benefits. The temperature control system can be connected to the BMS on site. Monitoring  allows you to easily note if the settings require adjustment, or have been changed incorrectly. This increases the safety of the stored chemicals, as some may have structures which can be altered by temperature fluctuations, and so need to be carefully supervised. The provided records are also essential for adding details to your chemical safety logs.
Segregation
The storage units are available with several segregated areas inside, allowing different classifications of chemicals to be stored securely within the same cabinet. As a result, you no longer need to buy separate stores for chemicals with different storage temperature requirements, as you can adjust the temperature of a single section without affecting the others. This not only saves on space, but also on money. Moreover, the size of the individual areas can be customised to your requirements, and are also monitored individually to allow precise records to be kept.
Frost protection
Temperature controlled storage also provides frost protection, which is essential for chemicals that are likely to freeze in low temperatures. This can cause the chemicals to expand, damaging their containers and increasing the likelihood of a chemical leak or spill. Moreover, if the freezing occurs too quickly, ice crystals can form, which may damage the chemicals' structure.
Atex versions for flammable chemicals
What's more, ATEX versions are available for flammable chemicals, vastly increasing the safety of your storage and workplace. These comply with the European Directives for controlling explosive atmospheres and so provide protection against any accidental chemical reactions. As a result, in the event of such an explosion the damage is minimised, safeguarding your employees and workplace as well as reducing the expense of any repairs.
For more information on temperature controlled storage units, contact our expert team today or browse our extensive range of customisable cabinets.